FISHER GOLD BUG 2 GOLD NUGGET DETECTOR
Fisher Goldbug 2 w/ 6.5" Eliptical Coil
Free Shipping
List Price: $899.99 Our Price: $764.00

CALL FOR AVAILABILLITY

Fisher Goldbug 2 w/ 6.5" & 10" Eliptical Coil
Free Shipping
Our Price: $849.99

CALL FOR AVAILABILLITY

Find Gold with Fisher's 71-KHz, Deep-Search Nugget Detector with a Lifetime Warranty
Extraordinary sensitivity, ultra-high operating frequency, iron discrimination, dust and moisture resistance, audio boost and the ability to operate in highly mineralized soil.
| Gold Size | 6.5" Coil | 10" Coil | 14" Coil |
| --- | --- | --- | --- |
| .5 grain | 1.5" | .25" | on coil |
| .8 grain | 2" | 1" | .5" |
| 5 grains | 4.5" | 4" | 3.5" |
| 1 dwt. | 5" | 6" | 6.5" |
| 1 oz. | 8" | 11" | 14" |
Now you can hunt with the next generation Gold Bug-the Gold Bug-2. Fisher engineers worked years to build a detector that would carry on the Gold Bug's well-deserved reputation as the world's premier nugget hunter, and here it is the Gold Bug-2. Like the original Gold Bug, the Gold Bug-2 is designed from the ground up for the sole purpose of finding gold nuggets.
Using low-noise, precision-matched, temperature compensated components and state of the art circuitry, the Gold Bug-2 takes prospecting to a new level. 71 KHz the highest operating frequency on the market. The result: Increased sensitivity to smaller and deeper nuggets in highly mineralized soil.
Switch on the Gold Bug-2's High Mineralization Mode. and you can hunt gold-bearing areas that were previously off limits. Flip a switch for the Gold Bug's Audio Boost Mode and hear those faint. deep signals. or use the new Iron Discrimination Mode to help avoid hot rocks and ferrous targets. Meanwhile, a dust- and moisture-resistant control housing helps keep your Gold Bug in peak operating condition.
The Gold Bug is backed by a 5 Year Warranty - On All Fisher Hobby Detectors and the commitment to quality that goes into every Fisher detector.
Download Gold Bug 2 Manual in Adobe pdf Format
FEATURES
Conceived, designed, engineered and manufactured specifically for today's electronic prospector.
Powerful 71 kHz operation for extreme sensitivity to small gold nuggets.
Advanced ground rejection circuitry for increased depth on large, deep nuggets in highly mineralized soil.
'IRON DISC" mode for hot rocks and iron identification.
Three auto-tune modes with two re-tune speeds for nugget hunting in almost any ground condition.
Sealed panel and speaker design for dust and moisture resistance. Faint-target audio-boost mode.
Converts to hip mount.
Only 2.9 pounds light with foam grip and cushioned arm rest.
Quartz-crystal locked electronics.
Only two drop-in batteries.
Standard, 10-inch, shielded, waterproof elliptical search coil.
Optional 6.5-and 14-inch elliptical search coils.
Dual-knob, coarse/fine manual ground adjust control.
Built to take a beating with metal loop connectors and double-locking, fiberglass-reinforced lower stem.
Built-in detector stand.
Built-in Fisher quality backed by over 60 years of engineering excellence and a rock-solid Lifetime Warranty - On All Fisher Hobby Detectors
SPECIFICATIONS
Length Extended 53" Collapsed 40"
Weight Complete 2.9 lbs.
Control Housing 1.0 lbs.
Handle and Coil 1.9 lbs.
Frequency LF Search 71.01 kHz
Response (VCO}
Operating Modes 1 . All metal Autotune (Normal)
2. All metal Autotune (Audio Boost)
3. Iron Discrimination
Mineralization Settings
1 . High Mineral (attenuated, fast autotune)
2. Normal Mineral (fast autotune)
3. Low Mineral (gain boosted, slow autotune)
Ground Adjustment....
Manual, 16-turn vernier dual-shaft precision potentiometer
Audio Output Speaker 2" Moisture Resistant
Headphone Jack . . . .1/4" stereo/mono
Control Housing Dust, Moisture Resistant Yes
Manual Threshold Tuning . . .
Small shaft on rear of housing, effective in all-metal, autotune modes
Search Coil Type Elliptical, Co-Planar
Size 10" X 5" standard, other sizes available
Shielding 100% Electrostatic
Interchangeable.... Yes
Waterproof Yes
Cable Length 7 feet
Handle Mount 1 Hip Mount Convertable . Yes
Built-in Arm Rest and Detector Stand . . . Yes
Batteries Type (2) 9V Transistor
Life-Carbon Zinc... 10-20 hours
Life-Alkaline 25-35 hours
Nicads 5-10 hours
Warranty: 5 Year Warranty - On All Fisher Hobby Detectors
CONTROLS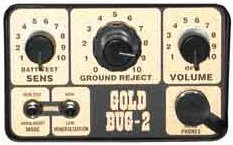 THRESHOLD: Small shaft on rear of control housing. Controls threshold tone.
MODE: Three-position toggel switch: 1 . IRON DISC Mode for iron and trash discrimination. 2. Normal Mode for normal, all-metal operation. 3. AUDIO BOOST Mode for hearing faint, deep targets.
BATTERY TEST 1 SENSITIVITY: Dual-purpose potentiometer with swich for audio-battery test. Controls sensitivity to targets, electrical interference and ground minerals.
MINERALIZATION: Three-position toggle switch for areas of HIGH, NORMAL and LOW mineralization.
GROUND REJECT: Dual-knob control electronically tunes the search coil to ignore ground minerals. A small, single-turn coarse adjust knob is stacked on a large, 16-turn fine-tuning control.
VOLUME: Turns the power on and controls signal response volume. HEADPHONES: Jack for most mono and stereo headphones with 1/4-inch plug.
ACCESSORIES
Standard Equipment
10-inch Elliptical Search Coil
Alkaline batteries
Operating Manual
Optional Equipment
6.5-inch Elliptical Search Coil
14-inch Elliptical Search Coil
Coil Covers
Carrying Bag
Hard Carrying Case
Stereo Headphones
Rain Cover
Holster
Book: Advanced Nugget Hunting with the Fisher Gold Bug2